John "The Martyr" Rogers

Born: Abt 1507, Deritend,Ashton, England

Married Abt 1536, Warwick, England, to Adigan Adriana Pratt

Died: 4 Feb 1555, Smithfield, England

---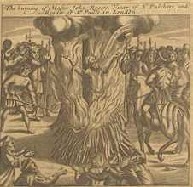 "The Burning of Master John Rogers" - Engraving from John Fox, The Third Volume of the Ecclesiastical History containing the Acts and Monuments of Martyrs. . . .


Rev. John Rogers was a sixth generation Rogers who chose to become a clergyman. He was born circa 1500 in the parish of Aston, near Birmingham at the family home 'Deritend'. He was educated at Pembroke Hall, Cambridge, where he graduated with a B.A. in 1526. He was then chosen to the Cardinal's College at Oxford and soon thereafter went into holy orders in the Roman Catholic Church. On 26 December 1532, he became Rector of the Church of Holy Trinity in the city of London and served two years. He resigned in 1534 and went to Antwerp as chaplain to the English merchants. Here he met William Tyndale, under whose influence he abandoned the Roman Catholic faith and, in 1536, married Adriana Pratt alias 'de Weedy' (a surname which means 'meadow', in Latin "Prata," but anglicized into Pratt). They had eleven children - 8 sons and 3 daughters. Susan, John and Daniel were born in Brabant; the next seven children (including our ancestor Bernard Rogers who was son number five) were born at Wittenberg in Saxony, and the three youngest born in England. "After Tyndale's death Rogers pushed on with his predecessor's English version of the Old Testament, which he used as far as 2nd Chronicles, employing Coverdale's translation (1535) for the remainder and for the Apocrphya. (Early Christian writings not included in the New Testament) Tyndale's New Testament had been published in 1526. The complete Bible was put out under the pseudonym of Thomas Matthew in 1537; it was printed in Antwerp. This edition was sometimes called the "Matthew Bible". The Antwerp publishers got permission to sell 1500 copies in England. His work was largely used by those who prepared the Great Bible (1539-40), out of which in turn came the Bishop's Bible (1568) and the Authorized Version of 1611 (King James Version). After taking charge of a Protestant congregation in Wittenberg for some years, Rogers returned to England in 1548. In 1550, he became Rector of St. Margaret Moyses and, in the following year he was made Vicar of St. Sepulchre in London. In 1551 he was made a prebendary (a canon or clergyman who is entitled to a stipend [prebend] for special services at a cathedral or collegiate church) In April, 1552, his family were naturalized under a special act of Parliament. He continued his church work until the accession of Queen Mary to the throne, when on Sunday after her triumphal entry into London 16 July, 1553, he preached a sermon at St. Paul's Cross commending the "true doctrine taught in King Edward's days,," and warning his hearers against "pestilent Popery," he was summoned before the council and commanded to remain at home. He never preached again. In January 1554 Bonner, the new bishop of London, sent him to Newgate Prison where he remained for about a year. On 22 January 1554/5 Rogers and other Protestant preachers were brought before the Privy Council and examined. Cardinal Pole, on 28 January 1554/5, ordered a commission to proceed against persons liable to prosecution under the statutes against heresy, and six days later through sanction of the Council, Rogers was condemned and sentenced as an excommunicated heretic, to be burned to death at the stake at Smithfield. This sentence was carried out the morning of Monday 4 February 1554/5 (Julian calendar). He was not even allowed to see his wife and children before he died. He had been offered a pardon if he would renounce Protestantism, but with holy scorn he utterly refused it. He was the first Protestant martyr of Mary's reign, and his friend Bradford wrote that "he broke the ice valiantly."

Underwood's last paragraph on pp. 25-6 of his book on The Rogers Family states: "He (John Rogers) was born of parents whose descent reached back into the best blood of England, nearly all adherents to the Church of Rome; yet displaying true bravery of soul, he dared to throw off the Roman cloak and assert the freedom of conscience-thought in a belief of independent formation and government of the Church representing the Christian religion. He was a saintly type of man, whose burning was a stain on Queen Mary and the Roman Catholic Church, that never can be effaced."

------------------------------------------------------------------------------------------------

per History of Mayflower Planters by L.C. Hills
born at Deritend near Birmingham Co, Warwick, England. He was educated at Cambridge, leaving there about 1525, he took holy orders in the Roman Catholic Chruch about 1526, and from this time on his life was one of turmoil and strife in the religious world. He became a leader of the Anglican Reformation, and paid the penalty by being burned at the state on 4 Feb 1555, his children being forced to witness the ordeal.
[3869] per History of Mayflower Planters by L.C. Hills
alias de Weyden
niece of Jacob Von Meteren
--------------------------------------------------------------------
From: http://dgmweb.net/genealogy/0/Rogers/Misc/biblio.htm

Joseph Lemuel Chester. John Rogers: the Compiler of the First Authorized English Bible; the Pioneer of the English Reformation; and Its First Martyr. Longman, Green, Longman, & Roberts, London. 452 pp. Exhaustive, scholarly, the reference to have. Out of date, but only in the sense of new knowledge having been added, not that Chester's research was faulty. Reviewed in the NEHG Register (1863: 93), quoted here in its entirety:
In the preface we find this history of the volume: "The writer, in common with thousands of his New England brethren, was traditionally a descendant from the Marion Proto-martyr. During a protracted visit to the mother country, he devoted a considerable time to genealogical researches, in order to establish if possible the correctness of these claims. Those researches have been thorough and minute, and he believes that there is little informaiton of any value, respecting the families bearing the name of the Martyr, that can be gleaned after him, at least from accessible and responsible sources." Mr. Chester, after satisfying himself that he and all others who trace their ancestry through Rev. John Rogers of Dedham, Eng., are not descendants of the Martyr, at least in a direct paternal line, began to feel that justice had not been done to that heroic man, and that a new Biography of him was needed. In the volume before us, he has given a well prepared memoir, contianing everything of importance releative to his subject that could be discovered. Following the memoir are biographical sketches of some [of] the principal persons claiming to be descendants; and an appendix of documents and other matter. The following items, which we derive from the volume, will interest our readers, and especially such as suppose themselves descended from the Martyr.
John Rogers, there can be little doubt, was born "about the year 1500, and probably at the little village or hamlet of Deritend, in the parish of Aston, then in the suburbs of, but now quite surrounded by the city of Birmingham." His father, it would seem, was John Rogers of Deritend,—the fifth generation in descent from John Fitz Rogers, who married a daughter of Sir Simon Furnseup, descended from the Earls of Bush;"—who by his wife, Margery Wyatt, had three sons and two daughters, John, William, Edward, Eleanor who m. Robert Mylward, and Joan also married. Of these, John, supposed to be the martyr, married Adrian Pratt alias De Weyden of Brabant by whom he had eleven children, thus given from the visitation of Warwick, 1563: "1. Daniel of Sunbury, county of Middlsex, clerk of the council to Queen Elizabeth (ob. 1591), who married Susan, daughter of Nicsius Yetsworth, clerk of the signet, and secretary of the French tongue. 2. John, a proctor of the civil law, who married Mary, daughter of William Leete, of Everden, county of Cambridge, D.C.L. 3. Ambrose. 4. Samuel. 5. Philip. 6. Bernard. 7. Augustine. 8. Barnaby. 9. Susan who married John Short, merchant of London. 10. Elizabeth who married James Proctor, chancellor of Salisbury. And, 11. Hester, who married Henry Ball, physician." From this [p. 94] and another pedigree in the Harleian MSS., we find that the children of Daniel were a son and a daughter, viz: 1. Francis who married a daughter of ___ Cory and had a son Francis. And 2. Posthuma, who married ___ Spears; and that the children of John and Mary Rogers were, Cassandra, Elizabeth, Hecuba, Constantine, John, Edward, Mary and Varro (a son).

Mr. Chester has shown himself an able and conscientious investigator, and we are pleased to learn that he intends to continue his genealogical researches in England and that other New England families are likely to have the benefit of his skill and experience.