Pierre Tremblay

Born: 1626, Radonnai, Perche, France

Married 2 Oct 1657, Notre Dame de Quebec City, Quebec, to Ozanne Jeanne Achon

Died: 14 Apr 1687, L'Ange Gardien, Montmorency, Quebec

---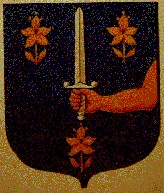 The [Pierre] Tremblay Coat of Arms


From http://www.homestead.com/tremblaydr/:

The Canadian ancestor who is studied with the most seriousness and pride, is named Pierre Tremblay. In French, Jean-Paul-Médéric Tremblay in his first volume entitled La Tremblay millenaire, has followed the Tremblay roots in the good earth of France, back to 1167. This was the year when Guillaume Du Tremblay made a gift of a vast domaine "in favor of the newly established Trappist monastery, founded in 1140 by Rotrou, Count of Perche." (1) In English, a compilation entitled "Genealogy of the Tremblay Family," made by James P. Lalone, and published in the January 1985 edition of Michigan's Habitant Heritage, is the most complete to date.

The Percheron forefathers of Pierre Tremblay may be divided into two distinct branches: One was powerful, influential and rich; the other, humble and poor. Pierre was a part of the latter.

Perche was within that part of Gaul conquered by the armies of Julius Caeser more than two millenia ago. In those days, it was an immense forest which covered today's territory of the cities of Séez, Mans and Chartres. Mortagne became the capital during the 10th century. Under the old regime, combined with




Mortagne
Tourouvre


Maine, Perche was one of the 33 Provinces of France. In Perche, Randonnai is a small town in the present Department of the Orne, District of Mortagne, Canton of Tourouvre. It was the birthplace of Pierre Tremblay, he who fathered a dynasty in the New World.

René Le Tenneur, claims that 238 Percherons emigrated to Canada in the 17th century. Those known to precede Pierre were: Giffard; Bélanger; Guyon; the brothers Boucher and Gagnon; Paradis; Poulain; Eloi Tavernier, originally from Randonnai, and many others. Accompanying him in the year 1647 were, Julien Mercier, dean Malenfant, Louis Guimont and Pierre Aloignon. (2)

THE RANDONNAIS



At Saint-Firmin de Normandel, on Tuesday 3 October 1623, Philibert a Loys a Gallien Tremblay, a laborer from the parish of Randonnai, and Jeanne Coignet, daughter of Jehan and of Barbe, agreed to be married. Their son Pierre was born at Saint-Malo de Randonnai about 1626. His brother Guillaume was born there too, on 16 November 1633, as was sister Marguerite, eight years later. It was also there, that on 17 November 1642, Pierre saw his father take his last repose.

In 1647, Pierre decided to leave the family farm, la Filonniere, in charge of his 14-year-old brother Guillaume. During the afternoon of 9 April, he and Martin Huan went to the home of notary Pierre Juchereau to accept the terms of a joint employment offered by brother Noel Juchereau of Québec. Martin Huan was a locksmith, twice the age of his protégé and friend, Pierre Tremblay. The contract was made to go to New France for 3 years: Pierre and Martin took their bundles, their work shoes, threw some baggage in a cart and set out for LaRochelle. Goodbye to Randonnai, to La Filonniere, to all, goodbye! (3)



Pierre Legardeur and Noel Juchereau owned a 70-ton caravelle La Marguerite. By comparison, Jacques Cartier sailed in the 60-ton La Grande Hermine. They sailed on 6 June 1647, after signing a contract with the ship owners before notary Teuleron. The crossing was made slowly; it lasted until 6 August. The water became putrid, the ship's biscuit insipid, in this liquid desert named Atlantic. It is one thing to speak of the inconvenience of life at sea, but quite another to experience it personally. Nevertheless, five ships made it to the anchorage at Québec that year of 1647 without adverse incident. Pierre Tremblay was so impressed while going up the Saint-Lawrence that he resolved never to leave this land of promise.

TEN YEARS OF APPRENTICESHIP

The period between 1647 and 1663 was very difficult for the Canadians. The colony was ever on the point of being stopped from building a New France. During this time, the Jésuits left Sainte-Marie-des-Hurons to the Iroquois menace. The blood of martyrs soaked this ungrateful land. Louis Guimont and young Gagné tragically disappeared from the land of the living. Catherine de Saint-Augustin wrote in 1651: 'We don't know if we can hold out here."

Pierre Tremblay, practically and laboriously, encouraged by the example of his bachelor friend, Martin Huan, took 10 years to prepare the foundation of his hearth, a home that would multiply itself unto the four cardinal points of America.

After the departure of Pierre for Canada, mother Tremblay in Perche went to live in the parish of Saint-Maurice. On 20 July 1649, she sold 4 perches of meadowland at La Filonniere. Pierre himself, was working for Noel Juchereau: We learn from documents written after the death of this employer, that Pierre was paid 75 livres for his second year of work.

Then, in 1652, dean Tréhard, a friend of Tremblay who had arrived after 1648, decided to go back to his homeland. On 13 October, "being about to depart for the aforesaid country to return to the aforesaid Perche," he loaned 40 livres to Pierre "in order to cover his needs." Mother Coignet paid back that loan! Pierre Tremblay seemed to have earned his living "on the docks of Québec, in the warehouses of Monsieur Juchereau, in the handling of merchandise from France destined for the colony and the furs accumulated by the traders and savages...." This is the oldest official document through which we can confirm the presence of Pierre Tremblay in America. (4)

Then he turned his attention to the farms along the Beaupré coast, living perhaps with the Gagnons or with Macé Gravel. It is at Québec that we find him about to make his mark on the bottom of a marriage contract, on 19 September 1657. The future bride, Ozanne Achon, a Kings Daughter had been in the country for less than four months. She was originally from Puyravault in the Diocése of La Rochelle and was the daughter of Jean and of Hélene Regnaud. Even though she had just arrived in Canada, she was ready for marriage. The Journal of the Jésuits, 29 July 1657, announced the arrival of a "nantois" ship. On board were Monsieur de Maisonneuve, Father de Queylus, three ecclesiastics, and why not Ozanne Achon herself as well as the rochellois Léonard Pilote? Pilote signed as a witness for Ozanne on her marriage contract. The presence of the three Gagnon brothers, of Marguerite Gagnon, wife of Eloi Tavernier, and of Macé Gravel, supported Pierre. On 2 October, at the church of Notre-Dame de Québec, Gabriel de Queylus himself, presided over the religious ceremony. (5)

ANGE - GARDIEN

Where did the Tremblay couple go to live after the nuptials? Perhaps at the home of Marguerite Tavernier widow of Gilles Bacon. She was godmother to their first child, on the feast day of Marie-Madeleine, 22 July 1658. On the 27th of the next November, we find Pierre at the home of the seigneur, in the company of Dame Jeanne Lehoux and godfather Pierre Greslon, who was the son of Jacques, census-taker for the seigneurie of Beauport.

Pierre, after 12 years of working in the colony, found an enclave for himself within the limits of the fief of Lothainville, today's parish of l'Ange-Gardien, just to the east of the present church. On 4 April 1659, two months before the arrival of Mgr de Laval Pierre took official possession of his 2 arpents of frontal; and on the river, alongside Adrien Hayot. One can imagine the energy exerted by the colonist and his friends to build a house for Ozanne who was expecting another child; who was born on 25 August and died the same day. (6)

Pierre, a good farm worker, was going into debt. In March 1662, he admitted to owing Michael Fillion 721 livres for a land lease, not to mention 65 livres due for merchandise received. Tremblay paid this latter sum and in turn billed his creditor for 60 cords of wood and for 200 pieces buried under the snow. (7)

They still did not have a church at l'Ange-Gardien. On 2 February 1660 Mgr de Laval was at Chateau-Richer for a confirmation. Ozanne wished to go there to make her Christian duty and receive the sacraments. Around 1664, Pierre and 21 companions, at the suggestion of Mgr de Laval, elected Jacques Goulet, a percheron from Normandel, the first church warden. They built a humble chapel of wood at the base of the cliff, while awaiting the opportune time to build another more permanently. This was accomplished in 1676; it was located on top of the hill. (8)

In the meantime, great joy occurred in the Tremblay home. In the autumn of 1665, Ozanne received a visit from brother Jacques who brought all the family news from France. Achon settled down in New France and married Marie Bonnefoy. They had two daughters before his premature death in 1669.

During the same period, Martin Huan came to visit the Tremblay family and asked for the privilege of living with them for the rest of his life. In return, he "donated" all of his worldly wealth, which was considerable, to the Tremblays. Certain passages of this declaration reflect great honor on the couple who had given this old bachelor their love and friendship. The accord was registered before Notary Auber on 16 October 1669. (9)

A LARGE FAMILY

On the Beaupré coast, Ozanne and Pierre had a dozen children, as follows:

1. Marie-Madeleine, baptized 22 July 1658 at Québec, married Nicolas Roussin in 1671.

2. An unnamed boy was baptized 17 August 1659 at Québec. He died and was buried the 25th of the same month.

3. Pierre, baptized 12 August 1660 at Québec, married Marie-Madeleine Simard on 3 November 1683. They had one son, Pierre. He then married Marie Roussin on 15 November 1685 and they had 15 children.

4. Michel, baptized 10 September 1662 at Québec, married Genevieve Bouchard on 20 June 1686. They had 14 children. .

5. Jacques, baptized 23 June 1664 at Chateau-Richer, married Agathe Lacroix on 5 November 1696. They had 9 children.

6. Marguerite, baptized 4 October 1665 at Chateau. Richer, married Jean Savard in 1687.

7. Louis, baptized 30 September 1667 at Chateau Richer, married 4 times: 1) to Marie Perron on 27 November 1691—6 children; 2) to Françoise Morel on 19 November 1706—5 children, 3) to Marie Letartre on 26 August 1716—3 children; 4) to Madeleine Marquis on 29 July 1727—no children.

8. Louise, baptized 21 October 1669 at l'Ange-Gardien, married Ignace Gagon in 1689.

9. Jeanne, born about 1672, married Antoine Perron in 1691.

10. Anne, baptized 19 March 1673 at l'Ange-Gardien, married Jean Payment in 1698.

11. Jean, baptized 21 April 1675 at Chateau-Richer, drowned at Beaupré and was buried at Baie-Saint-Paul on 1 August 1684.

12. Marie-Dorothée, baptized 27 April 1677 at l'AngeGardien, married Francoise Pelletier in 1703. (10)

Even though eldest daughter Marie-Madeleine had left the nest, there were still 13 people around the table, including Martin Huan. The land available on the Beaupré coast and on the Ile d'Orleans was becoming scarce, so Pierre was on the alert to find something more favo for his boys. It was Mgr de Laval who gave him his chance.

Ever since 1676, Claude Bouchard had gone to Petite Riviere for the summer, where he owned a lot. In the autumn of the following year, Noel Simard had taken a 5 year lease at Baie-Saint-Paul. Following these examples, Pierre obtained a lot nearby that of Claude Bouchard which he gave to his son Michel. Then, on 1 December 1678 Pierre obligated himself for 5 years to work on the land of Mgr de Laval at Baie Saint-Paul. Father François Fillon, witnessed the contract. (11) Pierre moved to Baie Saint-Paul, after 2 April 1679, to speed completion of a house on the farm and to take care of the animals: 6 oxen, 8 cows, etc. He had to remit half of the grain harvested at the end of the season, but he was provided seed grain, farm equipment, nets, salt and the barricades for trapping salmon in the river. That autumn, Pierre brought his seigneur 6 capons and 12 geese. Interestingly enough, it was ancestors Tremblay and Simard who became the first of their families to serve the bishop. That year, two sons of Pierre worked as laborers on his lands. Later on, Father Maizerets would write that the Tremblay family received 600 livres in salary, on condition that they finish the work already started. (12)

This initiative resulted in such success, that by 1680, the Tremblay family was firmly established at Baie-Saint-Paul. It was from there that the children married into the families Gagne, Perron, Lacroix, Laforest, Pelletier and Simard. (13)

Sons Pierre and Michel moved to the Cote Saint François-Xavier. The census of 1681 did not clearly state if Ozanne and the younger children lived at Baie Saint-Paul or at l'Ange-Gardien, nor if the herd of 16 cattle were always in the same spot. Up until 1685, it is probable that the eldest of their young children spent the summer at l'Ange-Gardien with Martin Huan, to take care of their first home. On 13 October 1685, Pierre received a grant from the Seminary of Québec, 9 arpents in frontage by a league and a half in depth, in a territory called the Petite-Riviere. A community grist mill was required to be built. (14)

THE LION'S TEETH

Pierre, the eldest boy, became seigneur of les Eboulements. His wife Marie Roussin gave the land for the first church of the Petite-Riviere: A cross of remembrance marks the spot. Louis, father of 14 children by 3 wives, became the grandfather of 113. Michel raised a family of 14, of whom 9 were boys. Jacques inherited the paternal assets at l'Ange-Gardien where his mother spent the rest of her days. On 9 March 1696, she went to the home of Notary François Geneple, accompanied by her sons, to put her affairs in order. She was careful, however, to protect the interests of her two, still single, daughters. In anticipation of her own demise, she asked her sons to make arrangements for 20 Masses to be said for her. (15)

Ozanne Achon died in 1707 at the age of 75 years. Her funeral took place at l'Ange-Gardien on Christmas Eve, 24 December. As for ancestor Pierre Tremblay, he left this world sometime between 1688 and 5 November 1689, the day when Ozanne called herself the widow of the late Pierre. (16) Nothing written attests to his death, as was the case with Julien Fortin. Father Jean-Paul Tremblay, family biographer, hypothesizes the death occurred during some difficult days: possibly during the severe epidemic in the autumn of 1688, which also struck Ozanne herself in the spring of 1689. On 20 June, we find her name on the sick list at the Hotel Dieu de Québec. (17)

BY WAY OF REVIEW

Our calculations show that today there are, in Québec Province in particular, and in all of America, not less than 9000 Tremblay families, of whom more than 1500 live in Montréal. All of these families represent about 100,000 individuals called Tremblay. That is truly a remarkable almost fantastic, number of offspring. (18)

In 1710, Pierre Tremblay, junior, became proprietor of the Seigneurie des Eboulements, one of the biggest properties in the country. His son Étienne built the manor house which still exists. This seigneurie remained in Tremblay hands until 1810.

Tremblays are the source of nearly all of the families of the county of Charlevoix. They are among the first inhabitants of the lle aux-Coudres. (19) Certain among them followed Lamothe-Cadillac in 1701 in the drive which resulted in the founding of the town of Détroit. (20)

In 1873, three of the sons of Vildebon Tremblay, from Baie Saint-Paul, direct descendants of Pierre Tremblay, seigneur des Eboulements, sought a private bill to officially reestablish the particle before the name Tremblay. That is why Canadian descendants call themselves Du Tremblay.

One finds the name Tremblay associated with every sphere of North American society both Canadian and American. Be it political, diplomatic professional, judicial, educational, religious or just plain sportive, the Tremblays are represented.

The name Tremblay comes from the Latin '~Trembleia," a variety of poplar tree whose leaves literally "tremble" in the breeze. The American variations of the name come about chiefly from different spellings of the basic name, i.e., Trembley, Trembly, Tremblais, Tremblois, Tranblay, Trombley, Tromley, Tromblay, Trumble, and Thrombley. The Canadian alternatives are more varied, i.e., Desrosiers, Dutremble, Trenble, Tremblois, Mesbottes, Lagueule, Dégelé, Tropbeau, Beauvelours, Chicot, Tropactif, Tempscouvert and Graindeblé. (21)(Note)

Tremblay, Trembly, Trembley(Eng., Scot. Fr.) one who came from Trimley (Trymma's wood) in Suffolk; dweller in, or near, Trympa's grove; dweller in, or near, an aspen wood, one who came from Tremblay (aspen trees) in France.22

Tremblé (Eng. Fr.) Descendant of Trumbold (strong, bold) dweller near an aspen tree.

------------------------------------------------------------------------------------
Pierre Tremblay, is the most prolific ancestor of our lines, originating in Perche. He is the sole head of a good family from France, and ancester to all the Tremblays in America. Pierre Tremblay, son of Philibert Tremblay and Jeanne Coignet is baptized in 1626 in Randonnai, a borough of the old county of Perche.

Pierre Tremblay left France on June 6, 1647 for New-France and arrived in Quebec on August 6 of the same year. The first trace that one finds in this country, is in the registers of the parish Our-Lady of Quebec, on the date of October 2, 1657: it is his marriage certificate. He marries a "fille du roi", who arrive on the ship, "Taureau", 21 June 1657. Ozanne Achon, daughter of Jean Achon and Hélène Renaude ou Regourde, from Puyravault in Aunis. Pierre is thirty one years old and she is twenty-four. These two young people marry ten years later than the average age of their companions at that time, but do not doubt than they will be the founders of the most considerable family of all the French Canadian nation.

Pierre Tremblay and his wife are established on a farm on the edge of Baupre, in the part which becomes later the parish of the l'Ange-Gardien. The couple had 12 children - 4 boys and 6 girls, who all attain adulthood and have large families of their own.